Luxand Blog
Luxand Makes iPhone Users Laugh
09/05/2012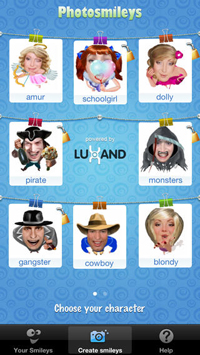 Luxand, Inc. announces the release of PhotoSmileys, a free iPhone app to create animated smileys and avatars out of a single picture of a human face. Animated emoticons produced with PhotoSmileys can smile, kiss, laugh, wink, angry, surprised, shy, sad or cry. Eight unique characters can be selected: cowboy, gangster, biker, surfer, blonde, brunette, flamenco and schoolgirl. Two characters available for free, others can be unlocked for a fee.
Visit PhotoSmileys.com to download the app.
About PhotoSmileys
PhotoSmileys turn facial photos into animated emoticons. Turning a single picture of a face into one of the 8 characters with 9 emotional expressions only takes a few taps on the iPhone. Smileys produced by PhotoSmileys can behave. They laugh and cry, sing or winkle with a lot of charm. Making a full set of animated emoticons is quick and easy.
Eight characters, nine expressions
PhotoSmileys features 8 characters: cowboy, gangster, biker and surfer guys, blonde, brunette, schoolgirl and flamenco girls. Each character behaves differently to express emotions. Two characters available for free, and unlocking each other character costs 99 cents with unlimited use afterwards. Emoticons produced with PhotoSmileys can be used in email and text messages to express emotions in the most creative way.
Pricing and Availability
The app is immediately available from Apple App Store. PhotoSmileys features eight animated characters. Two characters available for free, each other character can be unlocked for 99 cents, with unlimited use afterwards.
System Requirements
An Apple iOS 4.3 or later is required. Compatible with iPhone 3GS, 4, 4S, iPad, iPad 2 and The New iPad. Internet connection required.
---
A New Facial Identification Solution for Tighter Security
07/18/2012
We're proud to announce that our facial identification technologies have been successfully used in yet another project by our Brazilian partner, Riviera Informatica.
The new solution, MASTERFACEID, helps implement tighter security by adding biometric identification into new or existing access control and surveillance infrastructures. MASTERFACEID can identify faces in still images or video streams read from webcams or security cameras, compare them with facial images recorded in the database, and identify persons by their face. Multiple security levels, triggers and alerts are supported, including Skype and SMS notifications.
MASTERFACEID is based on Luxand FaceSDK, a leading toolkit for software developers implementing facial recognition and identification in applications built with a number of popular development environments for popular platforms. Unlike competition, Luxand FaceSDK never performs a pixel-level comparison or identification. Instead, the toolkit relies on biometric recognition and analysis of unique facial features. This approach allows Luxand FaceSDK to achieve high recognition rates and practically eliminates false positives.
More information about MASTERFACEID is available at http://discovirtual.rivierainfo.com.br/ReconheFacel.pdf
---
Blink! Pro Learns to Learn
02/08/2012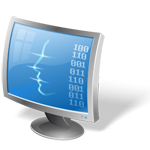 Train Blink! Pro to recognize your face under a variety of conditions—different lighting situations, with or without glasses, makeup or no makeup.
Updated for better facial recognition, the newest edition of Blink! Pro can register additional pictures of a face taken in under different lighting conditions. The more pictures you add, the better login results you will get. Blink! Pro learns quickly; a few pictures taken under extreme lighting variations will be sufficient to cover a wide range of conditions. In addition, the update fixes a number of issues reported by customers.
As always, Blink! Pro is covered by an unconditional 90-day warranty. Visit http://luxand.com/blinkpro/ for more information.
---
Blink! Pro Learns to Hide
02/08/2012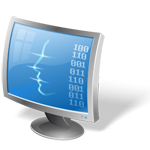 The newly added "hidden" mode allows you to remove the Blink! Pro icon from the Windows logon screen, allowing for improved security and protection against tampering and bogus login attempts. In hidden mode, the webcam logon is fully working – it's simply removed from your Windows screen. Enabling the hidden mode also removes the tray icon near the system clock. To exit the hidden mode, simply press a pre-selected hotkey.
As always, Blink! Pro is covered by an unconditional 90-day warranty. Visit http://luxand.com/blinkpro/ for more information.
---
FaceSDK 4.0 Released
12/07/2011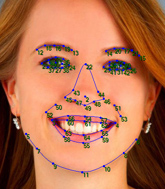 Luxand is proud to roll out an important update of FaceSDK. Version 4.0 is a huge leap forward, offering a substantial boost in performance when used on today's multi-core systems. By utilizing a newly developed excessively parallel computing, Luxand increased the performance of FaceSDK 4.0 some 300% compared to earlier versions when running on a modern multi-core or multi-CPU computer.
The performance boost now allows for true real-time operation, detecting 66 unique facial features in real-time.
In addition, FaceSDK 4.0 now supports Java, and recognizes streaming from IP cameras.
http://www.luxand.com/download/Luxand_FaceSDK_Setup.exe
---
Get Help with Your Project with Luxand Partner Network
11/16/2011

Luxand is excited to announce the launch of its Partner Network. The newly launched network consists of certified development partners who are ready to help you with your entertainment or enterprise project.
Looking for an experienced developer to complete your project? If you don't have the required time or skills using Luxand solutions, we are introducing an all-new option for you. Just get in touch with one of Luxand Partners, and you'll end up finding a partner qualified to handle the job.
The newly launched network makes locating the right developer easy. Whether you're building an entertainment project or launching a full-blown enterprise, our official Partner Network will present you with multiple options. Bringing customers and developers together, the new Partner Network help you complete your project with the help of accredited software developers.
Visit http://luxand.com/partners to learn more about our new Partner Network or to find an accredited developer for your project!
---
Luxand's New Mirror Reality Technology Immerses Users in Augmented Reality
04/20/2011
Luxand, Inc. introduces Mirror Reality, a facial feature recognition technology that makes augmented reality possible. The heart of the Mirror Reality technology is a new recognition engine that can identify 66 unique facial features based on a single still picture of a human face. Offering best-in-class recognition quality, competitive performance, and an unprecedented number of facial features that can be recognized, Mirror Reality has huge potential in the entertainment industry. Mirror Reality is patent pending and is open for licensing to Web and software developers as well as to entertainment and movie companies.
Immersing in Augmented Reality
Used in a variety of applications, the Mirror Reality technology redefines reality by altering the way people look. For instance, human faces in photographs can be completely transformed. In addition, real-time animation support can transform webcam streams into amazing augmented reality; for example, pointing a webcam at a person or a group of persons can mutate them, making everyone appear twenty years older or look like zombies.
The core tech uses sophisticated and fully automated facial recognition technology that can identify 66 unique facial features without requiring painted indexing marks on the face and without the need to perform a manual selection of facial features. With powerful hardware, the new technology makes possible the application of virtual enhancements to faces in real time. Mirror Reality dedicates eleven identification points to each eye and fourteen ID points to the mouth, even distinguishing individual lips. This attention to detail allows for extremely realistic face morphing, what Luxand calls "augmented reality."
The Mirror Reality technology has been used by Luxand in many entertainment projects. Accordingly, augmented reality created by this new technology can be previewed by exploring various Luxand online entertainment projects, such as In20Years.com (which makes people appear twenty years older), MakeMeZombie.com (which makes humans look like zombie creatures), and PicTreat.com (which makes human faces look more appealing by removing small imperfections and applying virtual makeup). These projects use augmented reality technology to manipulate and enhance human faces in still shots.
Today, the Mirror Reality technology is available for licensing to the general public. Luxand is making licenses available to software and Web developers as well as to companies in the entertainment and movie industries. Licensing terms may vary with intended use. Prospective customers are encouraged to contact the company to obtain a quote.
---
Luxand Automates Windows Logon with Blink!
11/11/2010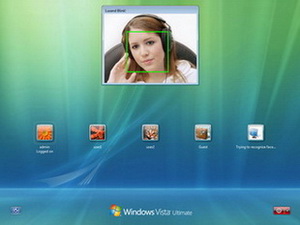 Luxand, Inc. releases the Pro version of Blink!, an innovative webcam-based biometric login system for 32-bit and 64-bit versions of Windows 7 and Vista. Blink! allows Windows users to log in by simply looking at a webcam. The newly released Blink! Pro can continuously monitor whether the user is still in front of their PC, automatically locking access if no face is detected for a certain period of time.
Background: Automating Windows Login
Luxand, Inc. has a long track record of developing innovative biometric identification systems based on face identification and recognition technologies. With the computational power available in today's PCs, it is now possible to identify and recognize faces in video streams produced by a webcam in real time. In turn, this can be used to automate routine authorization operations traditionally requiring the use of a username and password. Luxand has used its experience in biometric identification of human faces to build an innovative login automation system that lets users in by identifying their face.
About Blink! Pro
Blink! Pro lets users log in to Windows by simply looking into a webcam. Just as fingerprint readers verify users by scanning a fingertip, Blink! Pro does the same – but without having them touch anything. The innovative biometric identification tool offers speedy, touchless login to Windows accounts by employing state-of-the-art facial recognition technologies. Blink! Pro will recognize users' faces no matter what. Tough light, low light or changes in haircut and makeup will not affect the speed and precision of the system. The latest developments in face identification techniques reduce the number of false positives and false negatives to a negligible level.
The first version of Blink! was installed by hundreds of thousands of users at homes and in offices. With newly released Blink! Pro, home users will enjoy speedy touchless login operations, while corporations will benefit from tightened security and better control over who can access PCs in the office and when. Blink! Pro will not only record who's been logging in and out, it will also take time-stamped snapshots of everyone logging into a PC, helping IT security officers discover hijacked accounts and identify users logging in with false credentials.
In addition, Blink! Pro offers the ability to continuously monitor whether the registered user or anybody at all is present in front of a PC, locking access if nobody is there for a defined period of time.
Future releases will offer unobtrusive and fully invisible operation by working without any additional windows or icons cluttering the system. In addition, future versions of Blink! Pro will allow registering multiple users to share a single Windows account.
Blink! Pro is available for all editions of Windows 7 and Vista in 32-bit and 64-bit versions.
Pricing and Availability
Blink! Pro is available as a free, time-limited evaluation download. After the first 30 days, Blink! Pro will continue working, but will downgrade its functionality to that of the free edition. The fully featured version can be purchased at any time for $29.95 with a no-questions-asked, 90-day money-back guarantee.
---
Luxand Hosts Halloween Zombie Party
10/30/2010


This year, Luxand celebrates Halloween in a geeky way. Just before the D-Day, we opened a new spooky portal turning all visitors into zombies. That's right! Everyone who uploads their picture into makemezombie.com will see their face becoming a spooky creature right before their eyes. Visit makemezombie.com to join the forces of the undead!

---
Blink! 2.2 Released!
10/20/2010
We've fixed several bugs and improved several features. Now you can use one installer for both 32- and 64-bit editions of Windows Vista/7. Enjoy face recognition login on your computer with Luxand Blink!
Download the new Blink! 2.2 here!
---
Blink! 2.1 Released!
07/22/2010
We've almost completely reworked Blink! for you. It now supports Windows Vista/7 in both the 32- and 64-bit editions and it works even better than before. Get more stability, more reliability, and more security with the new Blink!
Download the new Blink! 2.1 here for free!
---
FaceSDK 3 Released!
03/25/2010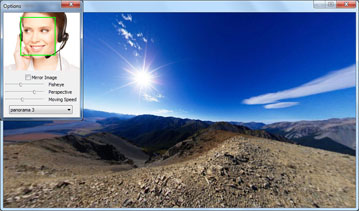 FaceSDK 3 goes gold! The updated release of FaceSDK vastly improves face recognition speed and accuracy over the version it replaces.
What's New in FaceSDK 3?
FaceSDK 3 is a major upgrade over FaceSDK 2.0. The new SDK employs a brand-new face recognition and identification engine. The new recognition engine is vastly superior to the old one, providing substantially higher recognition rates, fewer errors, and higher speed.
New recognition algorithms built into FaceSDK 3 allow for surefooted recognition in any lighting conditions. When the webcam recognition module is in use, it does not matter whether the subject is outside, under artificial or fluorescent lighting, or even is lit with the light of an LCD monitor alone. FaceSDK 3 will still recognize and positively identify the face. The new SDK is less demanding on system resources, too, increasing its operating speed several times over the old library.
Visit http://www.luxand.com/facesdk for more information or to order FaceSDK 3.
---
Blink! 2.0 Automates Windows Login and Boosts Recognition Rate
02/10/2010
Luxand, Inc. updates Blink!, an innovative face-based biometric login system, with better and faster face recognition algorithms. The upgrade to version 2.0 uses vastly enhanced biometric identification and face recognition algorithms, allowing the product to successfully recognize faces under the most difficult lighting conditions. New face identification algorithms boost the recognition rate and speed up Windows login compared to the first versions of Blink!
The innovative biometric login system is free for personal use. Luxand encourages developers and corporate customers to enquire about licensing the technology enabling integration into the Windows login screen.
The soon-to-be-released update of Luxand FaceSDK, a high-performance cross-platform biometric identification and recognition library, will integrate the enhanced facial identification algorithms used in Blink!
The free, fully-featured version of Blink! can be downloaded at http://www.luxand.com/blink
---
Luxand Releases SDK to Produce Passport-Size Photos out of Arbitrary Images
02/02/2010
Luxand, Inc. announces the release of FaceCrop SDK, a toolkit for software and Web developers enabling automatic face detection and the production of passport-size images of human faces with just one function call.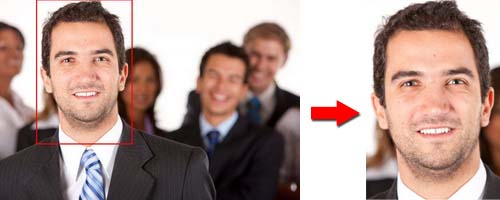 About FaceCrop SDK
FaceCrop SDK makes it possible to automatically produce face avatars or passport-size images of human faces out of digital snapshots with just one function call. The available command-line tool makes FaceCrop SDK easy to integrate into any project without any programming required. Supporting ASP.NET, PHP, C++, VB and Delphi, based on Luxand's experience in biometric technologies, FaceCrop SDK enables automated detection, cropping, resizing, and exporting images of human faces from arbitrary photos of any size, resolution, and format. Supporting custom size, resolution, and aspect ratios, FaceCrop SDK is perfect for workflow automation system, online entertainment portals, dating sites and social networks. FaceCrop SDK works completely automatically, and requires zero human interaction.
Avatars and passport-size images produced by FaceCrop SDK are always of the highest visual quality. Advanced downsizing algorithms employed in FaceCrop SDK produce passport-size images while maintaining clarity and legibility of facial features. Automatic framing automatically compensates for faces located in difficult places on the original image.
A single distributive of FaceCrop SDK supports multiple programming languages and a variety of platforms. ASP.NET, PHP, C++, Delphi and Visual Basic are supported. FaceCrop SDK is available for all 32-bit and 64-bit versions of Windows and Linux, and 64-bit MacOS X.
A command-line tool is available to support scripting and batch-file automation.
---
Luxand Echo FX for Adobe After Effects
11/27/2009
Luxand enables Adobe After Effects users to add a variety of echo FX to their videos in just a few clicks. Luxand Echo FX makes it easy to produce stunning video effects in Adobe After Effects by adding an animated shadow effect to the clip. A variety of adjustments are available to produce just the effect that you want. Simple echo, oscillated echo, and echo that runs ahead of time are easily achievable in just a few clicks.
Learn more about Luxand Echo FX, download the free trial version, or purchase your copy now!