Luxand Blog
FaceSDK 2.0 Supports Webcam Streaming in Real Time
09/23/2009
Luxand updates FaceSDK to version 2.0, adding long-awaited and highly demanded support for real-time processing of webcam traffic. The new release of the face recognition SDK can receive a video stream directly from a webcam, performing face recognition and tracking in real-time.
Download the 2.0 version here:
http://www.luxand.com/download/Luxand_FaceSDK_Setup.exe
---
Luxand Releases Glamour Image Processor
09/14/2009

Luxand is proud to announce yet another product using our face identification technologies. Released today, Glamourizer 1.0 beta allows anyone with a digital point-and-shoot, ultra-zoom, or SLR camera to turn ordinary snapshots into stunning glamour portraits. Empowered by Luxand face identification and facial feature recognition algorithms, the new product features fully automated operation that makes it possible to process hundreds of photos at once – no user input required!
http://luxand.com/download/LuxandGlamourizerInstall.exe [7.5 Mb]
Glamourizer fixes small skin imperfections such as blemishes, wrinkles, and freckles, and compensates for varying lighting conditions by applying healthy skin tones to human faces. We have a sample gallery available – visit http://luxand.com/glamourizer to see the impressive glamour portraits produced with Glamourizer in fully automatic mode! Our most active beta-testers are entitled to a free license. It's not too late to become a tester! Just contact us and tell us what you think about Luxand Glamourizer.
---
FaceSDK 1.9: Thread Safety Update
08/12/2009
Luxand, Inc. is proud to announce an update to Luxand FaceSDK. The new FaceSDK 1.9 features thread safety enhancements, allowing the library to be used in parallel environments.
Luxand FaceSDK is a high-performance library for face and facial feature detection. The new edition enhances concurrent operation in highly parallel environments by updating the code with thread safety protection. You don't need to modify your application's source code to benefit from added thread safety. Just download the updated SDK and use it with your existing applications:
http://www.luxand.com/download/Luxand_FaceSDK_Setup.exe
---
Luxand, Inc. and Goldfinger Applications, Ltd. Launch PicTreat.com
07/16/2009


Luxand Inc. and Goldfinger Applications, Ltd. announce the availability of PicTreat, a free, fully automated on-line service to enhance the appearance of human faces taken with digital cameras. The new picture enhancement service employing Luxand patent-pending revolutionary technologies allows photographers to enhance people's faces automatically by simply uploading pictures into PicTreat. The service improves the appearance of human faces by automatically removing skin imperfections, correcting colors to produce healthy skin tones and removing red eye. PicTreat is coming from the authors of the popular baby face prediction service, makemebabies.com, which has produced 20 million baby faces to 10 million visitors since its launch a year ago.
About PicTreat
PicTreat is here to help photographers to enhance people shots without charging them an arm and a leg. The new service makes human skin look smooth and healthy by automatically removing skin imperfections and applying color adjustments that make pictures look their best. PicTreat automatically detects human faces in the photo, removing red eyes from the pictures without users having to make an extra click. The service is so fast that it only takes a second between uploading a picture and seeing its improved version!
PicTreat recognizes pictures taken with a digital SLR, point-and-shoot, mega-zoom or mobile phone. By applying different treatments to images taken with different tools, PicTreat offers individual approach to every photo uploaded.
Pictures taken with mobile phones can sometimes exhibit blotchy color noise. For PicTreat it is easy to remove, making phone-taken images look their best. The service corrects for varying lighting conditions by correcting imperfect color balance, making pictures look warm and inviting instead of being cold and dark.
Even images taken with a webcam can look better when treated by PicTreat! Human faces lit with computer monitors in a dark room can look anything but pretty. PicTreat compensates for this lighting condition and enhances other picture properties, making the image look its best no matter what tool was used to take it.
Thanks to advanced biometric technologies developed by Luxand, Inc, skin imperfections such as pimples, wrinkles, and freckles are easy to remove completely automatically. PicTreat smoothes the skin without making it look blurry or plastic, resulting in natural, healthy looking skin.
Images produced by PicTreat can be easily used in various photo sharing sites and social networks. PicTreat even allows cropping in correct dimensions for using the image as a social network profile picture. It is easy to produce a perfect avatar out of an ordinary snapshot!
PicTreat is a free service available at http://www.pictreat.com
---
Log In to Your PC by Simply Looking!
07/07/2009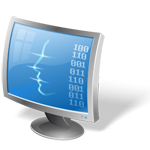 Luxand calls for volunteers! Testers with webcam-equipped PCs are utterly needed to test the new biometric login system. Luxand Blink! allows users to log in to Windows by simply looking into a webcam – no need to scan fingers or type lengthy passwords. Luxand Blink! supports all types of webcams, accommodates for varying lighting conditions, and recognizes faces with different haircuts, contacts, lipsticks, and fashion accessories.
The pre-release version is, for a limited time, free for testers. We need to make sure we've done it just right – secure enough to ensure no unauthorized person can access your PC, yet responsive enough to recognize your face from the first look. We also have to make sure it works properly with the many different webcams, Windows versions, and driver revisions, let alone the varying lighting conditions such as fluorescent, incandescent, and daylight. Help us to test Luxand Blink! and we'll compensate you by giving you the release version for free! Visit http://www.luxand.com/blink to download the beta version.
---
FaceSDK 1.8 Released
04/29/2009
Luxand, Inc. just made FaceSDK cross-platform. The new version 1.8 of Luxand FaceSDK natively supports Windows, Linux, and Mac OS X platforms in 32- and 64-bit variations. Besides, we added support for Visual Basic .NET, improved performance, and fixed numerous small issues reported by our customers.
Luxand FaceSDK is a high-performance library for face recognition, face detection, and facial feature detection. The new edition supports multiple platforms, allowing developers to make products for 32- and 64-bit versions of popular operating systems including Windows, Linux, and Mac OS X. The newest release of FaceSDK boosts performance even more, and works on small bugs and issues reported by our valued customers. The new release is available for immediate download at:
http://www.luxand.com/download/Luxand_FaceSDK_Setup.exe [13 mb]
---
Luxand Debuts New Face Recognition Search Engine To Address Need Of Photo-Sharing Websites For More Creative Ways to Share Images
11/06/2008
Luxand offers the owners of photo-sharing and dating websites a new type of search engine that relies on the latest facial recognition technology to find photos of people and organize them for quick retrieval.
Luxand, Inc. today announces the availability of Luxand Face SDK 1.7, a unique facial-mapping engine that enables a website to find people by faces. Until recently, most searches worked by searching the text description surrounding the photo or the meta data. The engine from Luxand uses the latest face recognition technology to find all photos with the same person by the face, rather than words.
To enable the facial search, the library scans and indexes all faces found in the photographs on the website. Then when the user wants to find someone, he needs to upload a photograph with this person to the website and the engine goes to work. It analyses the uploaded photo, detects the face, extracts its feature characteristics and matches them against thousands of other photographs in the picture database. In a matter of a few seconds, the engine displays all images, in which that exact person was found.
Unique to the Luxand's engine is its outstanding matching accuracy. Unlike similar technologies, the library matches every single feature of the person's face with its counterpart on the photographs from the database. The comparison accuracy of the algorithm has been checked in FERET tests and found to be the best in the category as compared to the face recognition implemented in competing commercial systems.
In addition to the facial search, the algorithm can be used to organize a large collection of photos by automatically tagging all the pictures where it finds one and the same person. The user simply needs to upload a photo and tell who the person is in this image. Then the algorithm will find all other pictures where this individual appears and tag them automatically. Automatic tagging is a great time saver for users who share hundreds of photos online as there'll be no need for them to spend time adding tags manually.
"Our engine is an incredibly useful tool for anyone who needs to find the person but doesn't know the name or cannot find him by textual queries, " says Alex Konoplev, CEO of Luxand. "Automatic labeling of photos using face recognition is also a great feature for the users of photo-sharing, dating or social sites like Facebook or MySpace, who demand more creative and easy ways to share and enjoy their photos with others."
Luxand FaceSDK 1.7 is cross-platform and available for Windows, Linux and Macintosh. For more information about the product, technical details about its implementation and advice, visit http://www.luxand.com/facesdk/.
---
FaceSDK 1.7 Released
11/05/2008
Luxand enhances FaceSDK with more face recognition features. The latest release of Luxand FaceSDK maintains code compatibility with all previous versions while adding several important features. The latest release adds face matching and face identification operations, the latter identifying a face from a database. Unlike its competition, Luxand FaceSDK never compares faces pixel-by-pixel. Instead, it identifies, analyzes, and compares unique facial features, which allows Luxand FaceSDK to achieve high recognition rates and practically eliminates false positives.
Our claim of high recognition rates is supported by testing Luxand FaceSDK with FERET, a standard face database and a set of testing methodologies. The new version of Luxand FaceSDK is available for immediate download at
http://www.luxand.com/download/Luxand_FaceSDK_Setup.exe [2.3 mb]
---
Build Electronic Watchdogs with Highly Accurate Face Recognition
11/05/2008
Luxand introduces SDK for creation of security and access control systems with highly accurate facial recognition.
Luxand, Inc. today announces the availability of Luxand Face SDK 1.7, a unique face recognition library for building biometric applications, security and access control systems. Luxand Face SDK stands out as the only facial recognition engine on the market today that detects facial features of each face, and compares the faces feature by feature.
Luxand Face SDK enables highly accurate recognition from a digital photograph or a video frame. To determine the identity of an individual, it offers two identification modes: 1:1 and 1:N (one-to-many). In the first mode, the algorithm verifies that the person is who he claims to be by matching a person's face to one face template in the database (1:1). The second mode helps to identify who the person is by comparing the face against all face templates stored in the database (one-to-many). The specialty of identification lies in its high accuracy, which is due to the unique ability of the Luxand's algorithm to recognize facial features. When the library performs a comparison, it matches every single feature of the person's face with its counterpart on the face template.
The identification accuracy of the Luxand's algorithm has been evaluated in FERET tests and found to be the highest in the category as compared to the algorithms implemented in competing commercial systems. &qout;The results we've seen prove our product to be the best in class,&qout; said Alex Konoplev, CEO of Luxand. &qout;Our technology can unlock the potential for developers to make software products with facial feature recognition, which is truly outstanding in terms of accuracy and speed. Luxand Face SDK dramatically reduces the time and costs of creating such an application and can be easily integrated into the software project.&qout;
Luxand Face SDK has many potential uses in the security and law enforcement arena. Some examples include:
Verification of the laptop owner. Luxand Face SDK can be used to create a facial recognition application for a laptop computer that will enable its owner to log on the computer using the face, rather than a password, which can be easily forgotten or lost. When someone attempts to log on, the security system will make a snapshot of the person's face with the laptop camera and compare it to the face template of the laptop owner stored in the system. If the identity is verified, the user gets access to the computer.

Identification of the suspect. The Luxand's recognition technology can be used in a security system for assisting law enforcement with catching criminals and terrorists. In the airport or in the street, the security officer can capture a face of the detained person and check the photograph against a database of previously documented criminals and suspected terrorists. In a matter of seconds, the systems will tell if the person in question is among those on a watchlist for terrorism or crimes.
Other uses of the SDK include border and access control, voter fraud prevention and ATM security.
Luxand FaceSDK 1.7 is cross-platform and available for Windows, Linux and Macintosh. For more information about the product, technical details about its implementation and advice, visit http://www.luxand.com/facesdk/.
---
Swapping Faces between Images Automatically
10/28/2008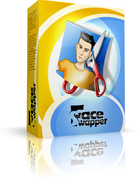 Luxand, Inc. announces the release of FaceSwapper, a utility for swapping faces between different images completely automatically. With FaceSwapper, there is no need to select or outline faces by hand. The product automatically detects and selects the face and adjusts its color and gamma to match target image. The cutting and pasting of faces occurs entirely in 3D space to allow users match angle and direction of the target face.
About FaceSwapper
FaceSwapper makes it easy to create smooth, natural-looking collages with human faces pasted from one picture into another. The product takes care of every aspect of the face transfer from selecting and outlining the source to adjusting its color and gamma. The entire face transfer occurs in 3D space, allowing rotating and angling the face smoothly and precisely.
The automatic outlining algorithm produces smooth selection with no jagged edges, allowing the source face blend seamlessly with the destination background.
Applications for FaceSwapper are limitless. The tool allows users to cut and paste faces into famous paintings or pin-up posters, ancient sculptures or dollar bills. Participants of photoshopping contests around the globe have already praised FaceSwapper as the easiest tool to transplant human faces without lots of manual work.
Evaluation version of FaceSwapper is available here.
---
Luxand's "Time Machine" Lets Everyone Get a Glimpse into the Spookytacular Future
09/24/2008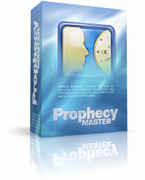 At one time or another, most everyone wished he had a time machine to travel in time and see what he would look like in 20-30 years from now. With Luxand's new aging software, that's exactly what users will be able to do.
Luxand Inc. today announces Prophecy Master 1.0, an age morphing computer program that allows anyone to see what they would look like when they grow old.
Today there are many photo-retouching utilities out there that can be used to make us look prettier, sexier, and younger. But none of them are designed to age us. Until now. Luxand has come out with an intriguing software utility called Prophecy Master, which uses the newest face recognition technology to accomplish the transformation from beautiful to unattractive and old in just a second. The technology detects and analyzes the face on the photo, and applies sophisticated mathematical transformations to generate a face of an aging person with the wrinkles, age spots, puffy eyes and other signs of age that a person would acquire in 20-30 years from now.
When the user loads a photo, that's when Prophecy Master does its truly magic job. The source photo should clearly show the person's face. The user makes a few image manipulations – pans, zooms, and rotates the photo in the image viewing window to get a full frontal view of the face. After these adjustments, the user clicks the button, and Luxand's "time machine" goes to work – it brings the face to future in a matter of nanoseconds. The result looks hysterically fun to watch and takes some time to get over the Gee-Whiz factor. When the user gets over it, he can save the photo to a file, or email it to someone he wants to share it with to have fun together.
Prophecy Master is a magic "time machine" that may offer the user a glimpse into the future. It can also make a fun toy to play with. When the user loads a photo of the irritating boss, or ex-partner into the program, the mischievous prankster lurking somewhere deep inside is going to be very, very happy.
For more information about the product or to download its free trial, visit http://www.luxand.com/prophecymaster.
---
Fun Way for Would-be Moms and Pops to See a Future Child
09/18/2008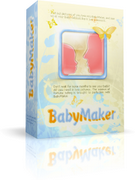 Have you ever wondered what your future baby would look like when it finally comes around? Which facial features it would inherit from you and from someone you're in love with? Now you can stop your guesswork and satisfy your curiosity with a clever piece of software called BabyMaker!
Luxand, Inc. today announces BabyMaker 1.0, a fun computer program specifically designed to let couples morph their photos and see a digitally created face of the future baby.
To morph a child picture, BabyMaker relies on the revolutionary facial recognition technology from Luxand. The technology allows morphing two digital photos together to generate a high-resolution picture. To accomplish this, the program carefully analyses the faces of the two would-be parents, detects their most prominent facial characteristics and applies some advanced mathematical transformations to generate an exact physical manifestation of a child. The quality of a source image doesn't really matter. You can load in scratched, faded, or black and white photos and still get a color rich, high quality rendering of a baby face.
The software works like magic. To get started, you first load the digital image of you into the BabyMaker editor. Then you manipulate the photo – pan, zoom and rotate it to get a full frontal view of the face. Repeat the same process to load the photo of your partner. Once the photos are all in, the program makes some sophisticated calculation, and voila! In just a couple of seconds, you'll see the photorealistic picture of your future diaper wearer.
After you have created the picture, you can share it with other people. To do so, save it to a file and embellish it in the other image editing software by placing the baby within a greeting card or a portrait frame. Then you can print the portrait to paper and hang it on the wall, or email the greeting card to your beloved and have fun together!
BabyMaker is a fun program that becomes addictive after a little while. Once you have combined yourself with your spouse, partner and friends, you may find yourself spreading your genes throughout Hollywood! With BabyMaker, you are only limited by a number of photos you have on the computer.
Available now, BabyMaker costs $19.95 (USD).
For more information about the product or to download its free trial, visit http://www.luxand.com/babymaker.
---
MakeMeBabies.com Gets Publicity
07/14/2008
MakeMeBabies.com, an innovative entertainment project of Luxand, Inc. in cooperation with Goldfinger Applications, gets featured on Globo, a Brazilian TV channel. Universal Pictures uses technologies that empower the project for the making of The Incredible Hulk promotional Web site, hulkerizer.com. MakeMeBabies.com gets overwhelming publicity, receiving 300,000 unique visitors in just one day.
About MakeMeBabies.com
MakeMeBabies.com is a brand-new entertainment service offered by Luxand at no charge to the end-users. Using sophisticated facial recognition and analysis technologies, MakeMeBabies.com creates simulated pictures of babies' faces from a pair of facial photos. The new technology provides high entertainment value by making it possible to peek into the future and see the possibilities. MakeMeBabies.com allows using any pair of pictures to generate a baby's face, with celebrity photos being a popular option.
The technology that empowers the new service is in its second generation, providing the same high-quality pictures of babies no matter the quality or resolution of the original parents' photos. The second-generation technology does not simply morph one photograph into another. Instead, it recognizes characteristic features of the two faces, and re-creates a picture of a baby by applying mathematical transformations to the features detected. This allows the creation of a quality color picture of a baby even if one or both pictures of the parents are black-and-white, low-resolution, or severely compressed.
---
Luxand Launches MakeMeBabies.com
06/24/2008
Make Me Babies, Babe!
Luxand, Inc. and Goldfinger Applications announce the release of a new service that generates pictures of future babies based on facial photos alone. MakeMeBabies makes it possible to peek what a baby of a user and partner, friend or celeb will look like.
About MakeMeBabies.com
Like that cutie superstar? Want to try celebrities as fathers or mothers of your children? Until today, you could only dream about it. MakeMeBabies makes the dream come true by allowing you to make that baby online with whoever you want! Just take a picture of yourself and choose that other parent from the list of celebrities we've got, and you'll see a baby of you two in an instant. You need nothing but a picture of your face to get started.
Have a lust for someone? Want to see what a baby would be like if you get one with your boyfriend of girlfriend? Upload a picture of your significant other into your account, and get that baby done in less than nine seconds instead of nine months!
About the platform
MakeMeBabies is a cross-platform application, launched as a website, a Facebook application and a myspace application
MakeMeBabies.com is a first mover to make use of the innovative Gigya Socialize widgets for friend communication and news feeds.
---
Luxand FaceSDK 1.6: New Types of Licenses, Several New Technologies
06/10/2008
Luxand, Inc. is proud to announce several important changes to Luxand FaceSDK. We are making changes to our licensing policies, and introducing several new technologies to the SDK.
Luxand FaceSDK is a high-performance library for face and facial feature detection. The new edition can detect multiple faces on a single photo, and reduces its runtime size to a mere 1.5 MB. The newest release of the SDK is optimized to perform even faster than before. The new release is available for immediate download at:
http://www.luxand.com/download/Luxand_FaceSDK_Setup.exe [2 mb]
The important changes to our licensing policy are outlined below.
* A new Non-Commercial License is now available to freeware developers. This license is available at no charge.
* A new Basic License is available to software developers who only require face detection, and don't need detection of facial features. This license is available for $320. We introduced this type of license to help developers of graphic and photo-editing applications benefit from face recognition technologies without having to pay for unwanted extras. Graphic editors can include zooming on the faces, or provide various photographic adjustments such as correcting color and exposure based on the color and brightness of the faces in the photo. It is also possible to incorporate automatic portrait cropping and automatic red-eye reduction into photo editors, providing even more useful features to the end-users.
You are welcome to check all available licensing options at:
http://www.luxand.com/facesdk/order/