Detect and Crop Human Faces with Luxand FaceCrop
Automatic Face Detection and Cropping
FaceCrop SDK offers developers a single-call access to fully automated detection, cropping, resizing, and exporting of images of human faces. No matter what size, format, or resolution the source picture is, and how large or small is the face in it, FaceCrop SDK will automatically locate and cut the face, saving the target picture in just the size and format you need.
Passport-like Photos from Ordinary Snapshots
In general, the use of FaceCrop SDK produces passport-like photos out of digital snapshots that contain human faces. Images taken with digital compact cameras, SLRs, and mobile phones and webcams are accepted as well as images scanned from analog media.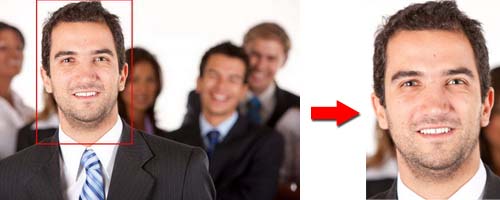 Single Call Operation
A single call of a FaceCrop SDK function is all that is needed to produce an avatar in the exact size, format, and aspect ratio specified.
Workflow Automation
FaceCrop SDK allows automating of workflow in human resources and organizations working with forms and documents containing human faces. Supporting both PHP and ASP.NET, FaceCrop SDK can run on the server, taking digital images in a variety of sizes, formats, and resolutions, and returning uniform pictures of human faces. Using FaceCrop SDK will save many hours of work by automating the process.
Avatars for Social Networks and Dating Portals
Developers of social networks, blogs, dating sites, and other interactive media will be able to offer automatic creation of avatars with human faces. Passport-quality photos are easy to produce out of any digital snapshot completely automatically! The following demo demonstrates your visitors' experience when you use FaceCrop SDK on your Web site.
FaceCrop Online Demo
Upload Image
By uploading this image, I agree to the Privacy Policy.
We may process your personal information for carefully considered and specific purposes which are in our interests and enable us to enhance the services we provide, but which we believe also benefit our customers. Read our Privacy Policy to learn more.
High Image Quality
Images produced by FaceCrop SDK look smooth and professional no matter what quality the original was. The scaling employs advanced algorithms allowing the production of passport-size images while maintaining image clarity and legibility of facial features. Various custom aspect rates are supported. Even if the face is on the edge of the original image and does not fill the entire output rectangle, FaceCrop SDK will still produce a pleasing image.
Multiple Programming Languages
FaceCrop SDK is available to developers writing in C++, Delphi, Visual Basic, C#, PHP, and ASP.NET. Output images can be exported into a file or returned as a HBITMAP value for further processing.
Command Line Support
The supplied command-line tool allows the automation of FaceCrop operations from the command line or batch files.
Cross-Platform Compatibility
FaceCrop SDK runs on any PC server platform running 32- or 64-bit versions of Windows, Linux, or MacOS.
Download Now!
Produce avatars with human faces with just one function call! Supporting C++, Delphi, Visual Basic, C#, PHP and ASP.NET, FaceCrop SDK performs automated detection, cropping, resizing, and exporting of images of human faces from arbitrary photos! Download your free evaluation version and start enhancing your applications immediately.
Download Now >>
View our EULA, Privacy Policy and Uninstallation Instructions.
Protected by U.S. Patent 8,879,804.