The mode allows the user to edit more than one photo simultaneously. This feature is available only in the automatic mode. The options, selected for the automatic mode, are applied to all photos in the batch list.
To enter the
Batch
mode, go to the menu bar and select
File → Batch Glamourize
. You can also select the mode on the
Open/Save
panel of the Quick menu.
To open the list of photos for batch processing, go to the main menu and select
View → Image List.
Besides, the batch list is loaded automatically when the user switches to the
Batch
mode. The program window in the
Batch
mode is shown below: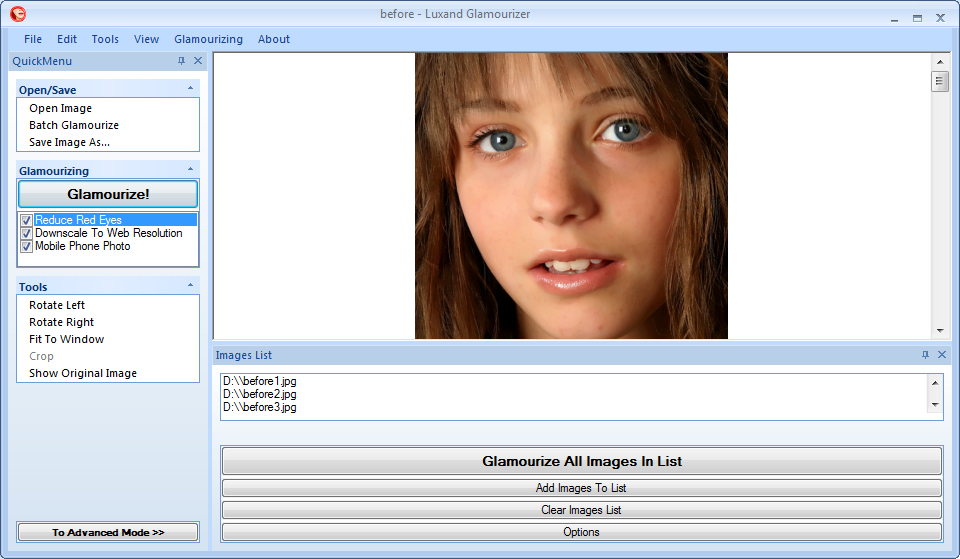 Batch list options:
Glamourize All Images In List
– Edit all images in the batch list. Edited images are saved to the folder, specified in
Options.
Add Images To List
– Add images to the batch list.
Clear Images List
– Delete all images from the batch list.
To delete one or more images from the list, the user needs to select the required photos and click
Del
on the keyboard.
Options
– Select how to save edited photos. The first option saves images to the source folder with postfix "_glamourized". The second option saves photos to the selected folder with original file names.